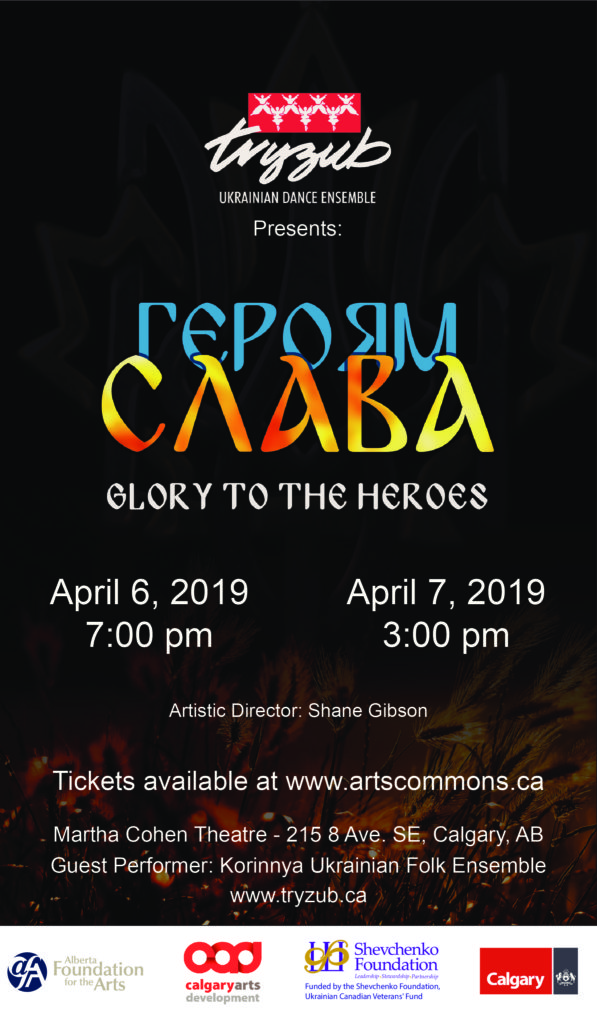 Join our friends, the Tryzub Ukrainian Dance Ensemble, on April 6 & 7 at Martha Cohen Theatre for an amazing performance!
Tryzub Ukrainian Dance Society presents
Heroiam Slava – Glory to the Heroes
Saturday April 6, 2019 at 7:00 PM
Sunday April 7, 2019 at 3:00 PM
Martha Cohen Theatre – Arts Commons
215 – 8 Ave SE, Calgary
Ticket prices range from $47 to $63.50
Tickets can be purchased through Arts Commons through their website, by phone, or in-person at the box office.
https://artscommons.ca/whats-…/…/tryzub-glory-to-the-heroes/
403-294-9494
---
The Tryzub Ukrainian Dance Society is reaching another important milestone, and as such is celebrating it through the production of a new show titled "Heroiam Slava – Glory to the Heroes". This full length show will consist of three Acts and will partner with Canadian-Ukrainian folk choirs. Through this show, Tryzub aims to engage a diverse audience, sharing beautifully portrayed ancient Ukrainian rituals and traditions, while bringing awareness to current Ukrainian events.