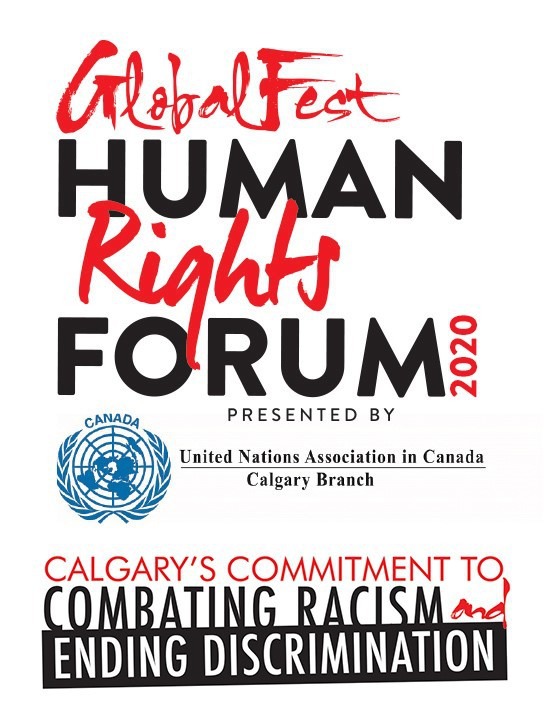 2020 Session Recordings
The Human Rights Forum presented by UNACanada-Calgary Branch has been offered since 2007 as part of GlobalFest's programming to promote diversity, cross cultural respect, and equality in our community. Our annual Human Rights Forum topics are structured around the UNESCO's Coalition of Municipalities against Racism and Discrimination.
Recognized as an excellent platform for sharing experiences, knowledge, and practical solutions necessary to address issues of racism and discrimination, the Human Rights Forum presented by UNAC Calgary encourages systemic change across the Canadian community in a positive and safe environment.
2020 heralded incredible change on a global scale, from the outbreak of the pandemic to the largest civil rights movement in living memory. This year's forum continues the dialogue from the 2019 series.
Breaking the Cycle 2.0
Moderated by Jill Croteau, Global News
Noon-1pm daily, plus question time:

Tuesday 13 October: Becoming an Ally
The killing of George Floyd sparked the largest civil rights movement in living memory – and at an unprecedented international level. Discussions around race were brought firmly to the forefront of many of our conversations. What does it mean to be an ally to Black, Indigenous and other People of Colour, and is there a difference between being an ally and being anti-racist? Understand the role can you play in speaking out against racism, including when you see microaggressions. Join us for this valuable discussion on becoming an ally and working to stop systemic racism in our communities.
Speakers
Taylor McNallie, founder Rural Alberta Against Racism (RAAR)
Darren E. Lund, Ph. D., Professor in the Werklund School of Education at the University of Calgary
Wednesday 14 October: Diversifying Organizational Leadership
Organizations are not race neutral. By looking at how hiring practices have implicit bias and where systemic racism exists we can continue the efforts of innovation within organizations. We'll look at what practical solutions exist to bring more diversity to organizations. We'll look at the lived experiences of BIPOC individuals entering majority environments and how standards such as grooming and attire impact them, or how "organizational fit" impacts us all.
Speakers
Ranju Shergill, partner of boutique executive search firm Pekarsky & Co
Alyssa Lindsay – Executive Director of Canada Bridges
Fariborz Birjandian – Executive Director of CCIS (Calgary Catholic Immigration Society)
Thursday 15 October: Institutional Change
Canada is a nation where a person's colour or ethnicity are determinants of access to health, public housing and treatment by law enforcement. This results in inequities across the board – from economic outcomes to social inclusion and life expectancy. How do we change the experiences of BIPOC in Calgary's institutions? Explore policy changes and practical solutions that have been implemented to address the racial biases that are endemic in the public service.
Speakers
Dr Aaron Wong, founder of The Conscious Clinic Movement
Ruben Breaker, Siksika Nation
Hyder Hassan, Immigrant Services Calgary
Friday 16 October: Indigenous Racism in Alberta
Many Canadians believe racism isn't "that bad" in Canada, and turn a blind eye to our Indigenous people. To begin to understand how we can continue to be a part of the solutions we need to look back at our history. This session will take us back, and forward. With educators who are working directly with the youth in Alberta making significant change. How? What are their pathways to helping?
Moderated by Jodi Hughes, Global News
10am-11am, plus question time:
Saturday 17 October: Raising Anti-Racist Kids
Registration: Free.
Powerful and unique conundrums exist when it comes to raising white children societies that are racially diverse yet full of racial injustice. Should we teach white kids to be "colourblind"? Or, should we teach them to notice race? What roles do we want them to play in addressing racism when they encounter it? How do we best do that?
Important public discussion exists about the impact of race and racism on children of colour. But we've talked much less openly or often about the impact of race and racism on white children. Such a conversation is not only for white people, of course. How white adults are raising and socializing children and youth impacts everyone. So, whether you've been a white kid, are helping raise white kids, have relationships with people who used to be white kids, or have children in your life who are friends with white kids—this conversation, in which we'll explore the challenges of nurturing anti-racist white identity and identify race- and justice-conscious strategies is for you.
Speakers:
Jennifer Harvey, author of 'Raising White Kids: Bringing Up Children in a Racially Unjust America'
Andrew G. Parker, co-founder of the Black Teachers' Association of Alberta
"The beauty of anti-racism is that you don't have to pretend to be free of racism to be an anti-racist. Anti-racism is the commitment to fight racism wherever you find it, including in yourself. And it's the only way forward."
— Ijeoma Oluo
Last year's Human Rights Forum explored HATE from a number of perspectives: those who have participated in hate-based organizations, who have incited hate, have been impacted by hate and have been victims of hate.
Together with key note speaker Daryl Davis, authors, activists and advocates Minoo Homily, TM Garret, Tony McAleer and Doug White participated in talks, panel discussions and breakout sessions, where they shared their stories as to how they came to and through their experiences, and what the motivating factors were for them to break the cycle of hate.