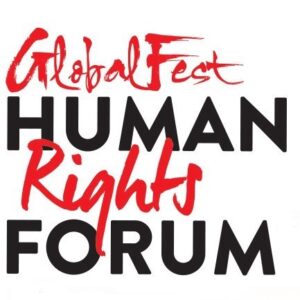 The Human Rights Forum has been offered since 2007 as part of GlobalFest's programming to promote diversity, cross cultural respect, and equality in our community. Our annual Human Rights Forum topics are structured around the UNESCO's Coalition of Municipalities against Racism and Discrimination.
Recognized as an excellent platform for sharing experiences, knowledge, and practical solutions necessary to address issues of racism and discrimination, the Human Rights Forum encourages systemic change across the Canadian community in a positive and safe environment.
Reaching Out
GlobalFest has launched a new initiative, Reaching Out, with a renewed commitment to how the forum is curated and delivered.  We are moving from a single weeklong series, to a more robust offering with additional stand-alone community forums to explore the findings of the main event.  Our intent is to expand upon meaningful conversations and encourage action. 
GlobalFest will reach further into Calgary's communities, to build more engaged partners and cause action and resolution.  The expanded program includes participants sharing a meal and delving into the core topics, facilitated by local and national leaders, educators and advocates. Beginning with our OneWorld ethno-cultural associations and community partners such as Calgary Catholic Immigration Services and the Center for Newcomers, we are also developing relationships with the Canadian Museum for Human Rights (Winnipeg) and the Institute for Canadian Citizenship (Toronto). 
The 2022 forum dates have not yet been set.
HUMAN RIGHTS FORUM PRESENTED BY: