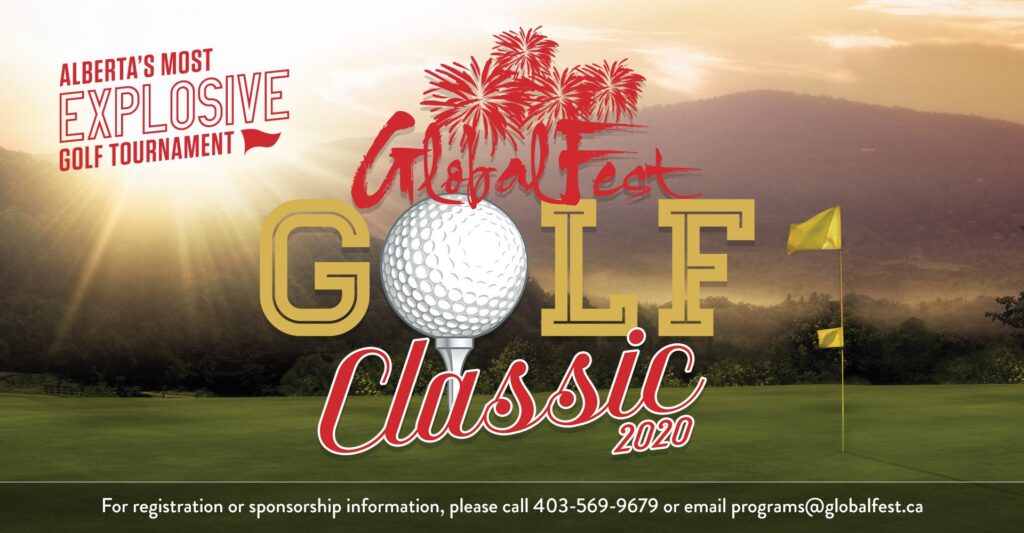 On Monday, September 21, 2020, GlobalFest hosted the 4th Annual GlobalFest Golf Classic – Alberta's Most Explosive Golf Tournament – at Muirfield Lakes Golf Club. This year's event, although happening later than planned, was a huge success and our biggest tournament yet. Once again, our dedicated partners and sponsors had a chance to mingle with other stakeholders while enjoying a beautiful sunny day on the links.
All proceeds raised by the tournament will go towards supporting the many community and youth development programs GlobalFest undertakes year-round, such as the Urban Arts Program and Human Rights Forum. These opportunities are more important than ever to create meaningful dialogue and shared understanding around issues in our communities.
GlobalFest is a not-for-profit, community and cultural organization committed to producing an inclusive, world-class, multi-faceted arts and cultural festival that celebrates and showcases cultural diversity and artistic excellence within our communities locally and across the globe.
We would like to express our sincerest appreciation and gratitude to all our golfers, supporters and volunteers for making the 4th Annual GlobalFest Golf Classic a continuing success. It has been a crazy year for all of us, and we could not have done it without you!
Ever gratefully yours,
Doran Heit
Chairman of the Board
GlobalFest
Absolute Baseball Academy
Ace Mat Services
Alberta Beer Festivals
Alberta Theatre Projects
Bare Activewear
Boogie's Burgers
Butterfield Acres
Calgary Airport Marriott In-Terminal Hotel
Calgary Public Library
Calgary Canucks Hockey
Calgary Folk Music Festival
Calgary Sports & Entertainment Corporation
Canyon Meadows Cinemas
CinnZeo
Cookies By George
Cookie Occasion
Co-op Wines Spirits Beer
Cold Garden
Dandy Brewing Co.
DBH Law
Devil's Head Coffee
Empanada Queen
Evoolution – Market Mall
eXmerce Barter
Flying Squirrel
Global Calgary
GoodLife Fitness – Deerfoot City
Ice River Springs
Janice Brown
Jenn Watson Jewelry
Kitcher Rustic Crafts
Laser Quest
Local Laundry
Lowen's
Madison's 12|12
Marble Slab Creamery
Marlborough Mall
McDonald's Canada
McSweeney's
MYo Lab
NOtaBLE
Okotoks Dawgs Baseball
Plant Shop
Play it Again Sports
Redberry Restaurants
Red Bull Canada
Regal Beagle Pub
Richmonds Pub
Scottish Pavilion
Skunkworks Distillery
SignCraft Digital Imaging
Southland Transportation Ltd.
Sunny Cider
The Best Western Premier Calgary Plaza Hotel and Conference Centre
The City of Calgary | The Office of The Mayor
The Hangar Flight Museum
The Military Museums
The Nash
Tollesturp Construction Inc.
True Buch
Trico Centre for Family Wellness
Vision Travel Solutions
Village Brewery
Wild Rose Brewery
Wine Alliance
Winners Circle Trophies and Awards
Yamnuska Wolfdog Sanctuary