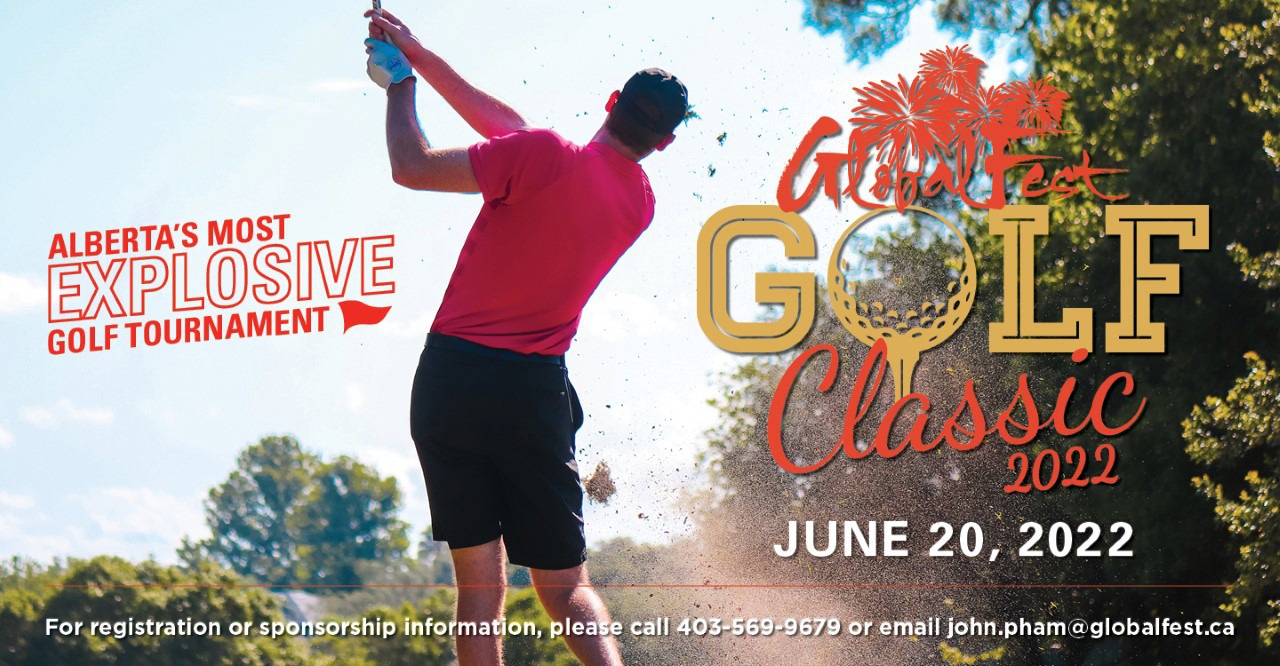 Another fun and successful day on the links!
Sponsors, Golfers, Donors & Volunteers,
The 6th Annual GlobalFest Golf Classic returned to Muirfield Lakes Golf Club with an Albertan summer day of sunshine, wind and rain that was definitely on par for monsoon June season!
My apologies I could not make it myself this year, the first time that I have been unable to participate since we started this amazing event, and I am very sad that I missed it. However, I understand by all accounts that it was a fantastic day despite the less than ideal golfing conditions in play.
In addition to providing our dedicated partners and sponsors a chance to mingle with other stakeholders, all proceeds raised at Alberta's Most Explosive Golf Tournament support the many community development programs GlobalFest undertakes year-round under the banner of the new 'Reaching Out' initiative, including MySummerJourneyYYC, GlobalFest Groves and the Human Rights Forum. After two difficult years that have challenged us all, but particularly marginalized and racialized individuals, these programs remain timely and important to creating connections and understanding of the issues faced in our communities.
GlobalFest is a not-for-profit community development agency dedicated to celebrating, showcasing and promoting Calgary's ethno-cultural diversity and artistic excellence. We enrich the lives of our citizens and strengthen our community, while simultaneously enhancing Alberta's reputation as an international destination.
We extend our deepest appreciation and gratitude to all our golfers, supporters and volunteers for making the 6th Annual GlobalFest Golf Classic another successful day. We're already excited for what next year will bring.
Yours sincerely,
Doran Heit
Chairman of the Board  – GlobalFest
TAKE A PEEK AT WHAT WE GOT UP TO AT PAST EVENTS
Alberta Beer Festivals
Alberta Theatre Projects
Banff Sunshine Village
Bite Grocer and Cafe
Blackfoot Crossing Historical Park
Boogie's Burgers
Burwood Distillery
Butterfield Acres
Cactus Club Café
Calaway Park
Calgary International Blues Festival
Calgary Co-op
Calgary Folk Music Festival
Calgary Opera
Calgary Stampede
DBH Law
Evoolution
Fergus and Bix
GDI Integrated Facility Services
Greta
Jeff Cooke Desjardins Insurance
Laser City
Lindt
Lunchbox Theatre
Marlborough Mall
McSweeny's
Monogram Coffee
NOtaBLE
Old Dutch
Old Spaghetti Factory
Phil & Sebastian
Studio Bell
SunnyCider
The Apothecary in Inglewood
The Best Western Premier Calgary Plaza Hotel & Conference Centre
The Calgary Flames
The Nash
The Sweat Lab
Theatre Calgary
Tollestrup Construction Inc.
Trico Centre for Wellness
Village Ice Cream
Wine Alliance