The International Fireworks illuminate the sky with a colliding orchestra of light and sound. 2022 features presentations produced by world-class pyro musical artists, including 2021 Champion India, first time entrant Austria, and returning countries France and Germany; plus GlobalFest's own spectacular Finale presentation by Canada's Archangel Fireworks.
Each night of fireworks by the presenting country has adjudicators looking for several things:
The quality of the display
Originality of the artistic concept: the choice of music and staging
Brilliance and richness of colours used
50% of the music used is native to the presenting country
Synchronization: the precision of the marriage between music, sound effects, and fireworks
Scope of the work
The result of these artistic requirements are presentations that cannot be seen anywhere else in the world, making each night of the International Fireworks a world premier presentation.
The lake at Elliston Park adds a special dimension to the festival – the reflections in the water add a fluid, shimmering mirror of the show taking place above. It is the designer's hope that the audience will lose themselves in the colours and rhythms of the display, while simultaneously being mesmerized by the cadence of the explosions and glittering forms.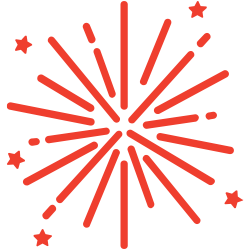 CHINA
THURSDAY, AUGUST 19
Title Of Show: Summer of Passion 
Designer(s): Yongjun Peng, Liuyang Jinyi Fireworks Co., Ltd 
Description:
Liuyang JinYi Fireworks Co., Ltd is located in the world fireworks capital–Liuyang city, Hunan Province. It is a professional fireworks company that concentrates on fireworks production, fireworks sales and fireworks displays. Jinyi has the Grade A fireworks display qualification, has planned and implemented a lot of large-scale, influential fireworks shows at home and abroad since its establishment. This fireworks display is mainly red, green, silver and brocade, bringing the audience a feeling of freshness, purity and lightness, and injecting a refreshing feeling into the scorching summer. 
Musical Program:
Song Title
Album/Artist
1.

Win the World

Heroes of Thunder (Puppet Show Interlude)

2.

Feeling Good

Escala

3.

Red in the East

Red in the East Chorus

4.

With an Orchid

Yanni

5.

Electric Romeo

Immediate
INTERNATIONAL FIREWORKS FESTIVAL