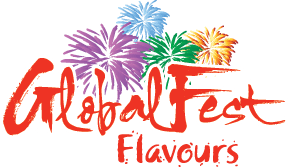 GlobalFest Flavours
Season 4 Returns in the Fall
GlobalFest has always been more than just fireworks. Annually, the OneWorld Festival celebrates the food, music and performances of the cultural partners who join us in celebration at Elliston Park.
In April 2021, we turned our attention to the flavours of the OneWorld Festival with a new live streamed mini-series. Each episode introduced our audience to a different culture to learn about the foods, flavours, spices and recipes of our cultural partners.
It is a complete culinary journey – buying spices, shopping for ingredients, exploring recipes and stepping into home and restaurant kitchens as the chef shared how to prepare a feature dish with Ken Goosen, GlobalFest's Chief Operating Officer.
Season 1 featured cuisines – Indigenous, Indonesian, Vietnamese, Francophonie, Chinese.
Season 2 featured cuisines – Japanese, Mexican, Filipino, Scottish.
Season 3 featured cuisines – Ukrainian, Filipino, Indian, Romanian.
Flavours livestreams at 6pm-730pm Tuesday, every other week, including time for questions. Registrations close 24 hours prior to each week's livestream.
Ingredients / allergens list will be released prior to ticket sales closing, for individuals with dietary needs.
Please whitelist contact@eventswoop.com to ensure you receive access information and event updates.
GlobalFest Flavours is presented in partnership with: