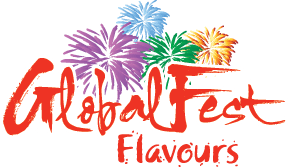 GlobalFest Flavours
GlobalFest has always been more than just fireworks. Annually, the OneWorld Festival celebrates the food, music and performances of the cultural partners who join us in celebration at Elliston Park.
In April 2021, we turned our attention to the flavours of the OneWorld Festival with a new live streamed mini-series. Each episode introduced our audience to a different culture to learn about the foods, flavours, spices and recipes of our cultural partners.
It is a complete culinary journey – buying spices, shopping for ingredients, exploring recipes and stepping into home and restaurant kitchens as the chef shared how to prepare a feature dish with Ken Goosen, GlobalFest's Chief Operating Officer.
The first five episodes covered an incredible selection of taste experiences:
Bison Burgers on Fry Bread with Chey Alrey Brass at Blackfoot Crossing Historical Park
Nasi Kuning & Sate Ayam (Yellow Coconut Rice & Chicken Sate with Peanut Sauce) with Chef Kartini Gowralli at Indonesian Kitchen
Sate Beef Subs and Sate Beef Salad Rolls with Chef Hiên Tran at Lac Viet Vietnamese Restaurant
Pea Soup with Chef Céline Bossé at the Calgary Regional ACFA
Shahe Fen Beef and Beef Short Ribs with Black Pepper Sauce with Chef Peter Yip at Regency Palace.
Five new episodes will be announced for the fall series soon.
The first GlobalFest Flavours series was presented in partnership with