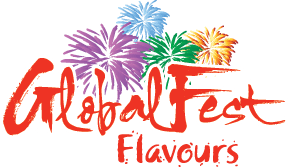 GlobalFest Flavours
Season 2
GlobalFest Flavours returns this fall, exploring four new cuisines with guest chefs on our live-streamed cooking program.
October 19 – Japanese Cuisine: learn to make Gyoza and Temaki Sushi with Head Chef Calvin Hsu and General Manager Andre Tambungco of Kinjo Sushi & Grill.
Ingredients & Allergen List
November 2 – Mexican Cuisine: learn to make Corn Cakes topped with Poblano Peppers, Chicken Thighs with Red Pipian Sauce and Mango Mousse with Chef Carmen Phillips, the creator of Herb Appeal Dressings.
Ingredients & Allergens List
November 16 – Filipino Cuisine: learn to make Chicken Afritada (braised chicken) and Lumpiang Sariwa (Fresh Egg Rolls) with chefs Gilmars Bacani of Village Way Kitchen; Norben Sayon of Quatro Asian Bistro; and Paul Esmeria of Paul's Kitchen Catering. Plus – see a fruit carving demonstration by Fercibal Brown of Carved Centerpieces & Artworks.
Ingredients & Allergens List
November 30 – Scottish Cuisine: learn to make Baked Tarragon Salmon and Aunt Mary's Shortbread with Robert Henderson of the St Andrew's Caledonian Society of Calgary. Plus enjoy an Atholl Brose whisky cocktail making demonstration – the perfect thing to warm you up on a winter night.
Ingredients & Allergens List
6pm-730pm each week, including time for questions.
$10 per episode. $30 Season Pass for access to all 4 episodes.
Ticket sales close 24 hours prior to each week's livestream.
$30 Spice Box (includes episode access, no other discount applies).
Sales close one week prior to livestream to allow for packing and pick up from the GlobalFest Offices.
Ingredients / allergens list will be released prior to ticket sales closing, for individuals with dietary needs.
Please whitelist contact@eventswoop.com to ensure you receive access information and event updates.
GlobalFest has always been more than just fireworks. Annually, the OneWorld Festival celebrates the food, music and performances of the cultural partners who join us in celebration at Elliston Park.
In April 2021, we turned our attention to the flavours of the OneWorld Festival with a new live streamed mini-series. Each episode introduced our audience to a different culture to learn about the foods, flavours, spices and recipes of our cultural partners.
It is a complete culinary journey – buying spices, shopping for ingredients, exploring recipes and stepping into home and restaurant kitchens as the chef shared how to prepare a feature dish with Ken Goosen, GlobalFest's Chief Operating Officer.
GlobalFest Flavours Season 2 is presented in partnership with