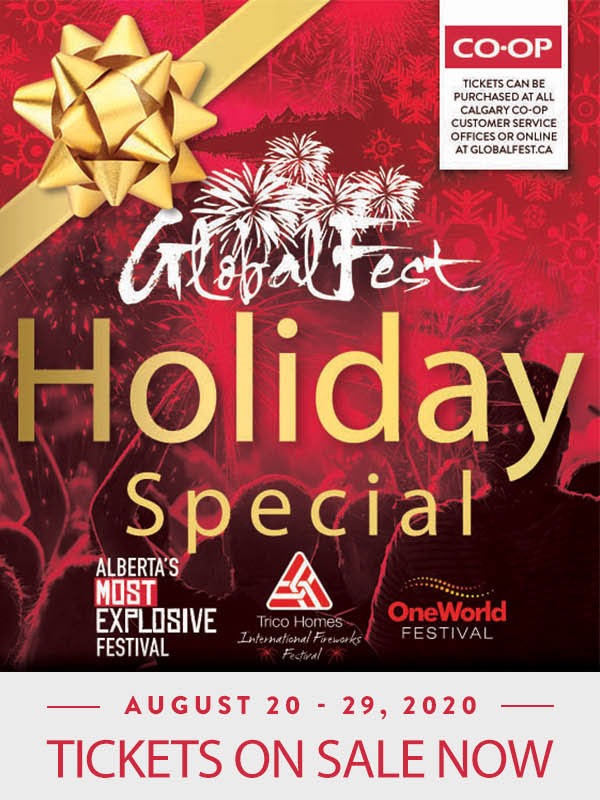 Alberta's Most Explosive Festival
GlobalFest 2020 Holiday Tickets on Sale Now!
(Calgary, AB – November 3, 2019) GlobalFest Holiday tickets and GlobalPasses are now on sale from November 3 until December 31, 2019.
GlobalFest is thrilled to announce the countries participating in the 2020 Trico Homes International Fireworks Festival. This year's theme is "Pearls of the Orient" and the schedule is as follows:
Thursday, August 20 – China
Saturday, August 22 – India
Tuesday, August 25 – Japan
Thursday, August 27 – Philippines
Saturday, August 29 – GlobalFest Finale
This annual summer event will also play host to five magical evenings of multicultural activities at Elliston Park during our OneWorld Festival including the Children's Village presented by Shakers Fun Centre, Cultural Pavilions, Ethnic Food Booths, International Bar and Beer Gardens, performance stages including the TD Main Stage, Night Market and so much more!
Tickets and GlobalPasses can be purchased at all Calgary Co-op Customer Service Offices and online at www.globalfest.ca.
General Admission Ticket – $8.50 (single admission to one of first four nights)
Finale General Admission Ticket – $16 (single admission to Finale night)
GlobalPass – $31 (single admission to all five nights)
Advertised prices do not include service fees and GST.
For every ticket purchased during our annual holiday season promotion, GlobalFest will donate one ticket to the Individuals and Families-In-Need Program supported by Worth Resolving Youth & Family Services. Our goal is to reduce or eliminate financial barriers to citizen attendance as part of our ongoing commitment to reaching out to the community as long as the need exists.
With the much appreciated support from our corporate and community partners including Almost Creative Calgary Co-op, CBN Commercial Solutions, Eservus On-Line Concierge Services, CJAY 92, Funny 1060AM, 98.5 Virgin Radio, , Global News Radio 770 CHQR and Star Metro Calgary, GlobalFest will, once again, be able to provide admission to disadvantaged Calgarians who would otherwise not have a chance to participate in our festivities. This past year, GlobalFest donated over 4,500 tickets.
Tickets to Alberta's Most Explosive Festival! make great stocking stuffers or gifts for
family and friends. Get your tickets and help support Individuals and Families-in-Need!
For additional information, please contact:
GlobalFest
P: 403.569.9679