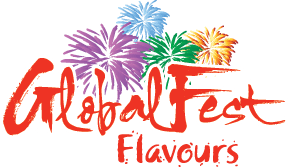 GlobalFest Flavours
GlobalFest has always been more than just fireworks. Annually, the OneWorld Festival celebrates the food, music and performances of the cultural partners who join us in celebration at Elliston Park.
For 2021, we have turned our attention to the flavours of the OneWorld Festival with a new 10-episode mini-series. Each episode takes our audience to a different culture to learn about the foods, flavours, spices and recipes of our cultural partners.
Join us on the whole journey – buy spices, shop for ingredients, explore recipes and step into home and restaurant kitchens as the chef shares how to prepare the featured dish. Each episode runs 5:30 pm – 6:30 pm, plus question time.
Five more episodes to follow in the fall.
Event tickets $10 each
Event ticket including Spice & Dry Goods Box $25 each (strictly limited to 50, Calgary area only)
Spice box sales close at noon the Wednesday prior to each episode screening to allow for packing and pick up.
Ticket holders, please add
contact@eventswoop.com
to your email whitelist to ensure you do not miss important information and event updates.
In partnership with